ABOUT US
History
The main building at Raemoir was started in the Georgian era however the smaller, original Raemoir House, locally known as the Ha' Hoose (Hall House) and located behind, dates from 1690. The eagle eyed may notice the distinctive window above the door of the Ha' Hoose that inspired our logo. Final additions to the main house were made during the late 1800's, the Victorian era, which explains the two different styles on the front facing gables. Throughout its development Raemoir remained a private home until 1943, when it became a hotel, and since then there have been no major alterations save a reconfiguration of rooms to ensure that all bedrooms have ensuite facilities, a rare but important consideration when hiring an old building for private use. The most recent alteration was installing a new access staircase to access the basement, where the spacious and luxurious toilet facilities are located, and direct access to the Marquee.
Originally run by sisters Peggy Jordan and Kit Sabin, the hotel was famous for entertaining stars of the day, with many regulars using it as a retreat after performing at His Majesty's Theatre. The Garden Room was known then as the Private Sit, where the sisters would hold court after hours but this privilege was by invitation only, the room remained staunchly private and not everyone was graced with an audience! The hotel played host to Royalty, Politicians, travelling dignitaries as well as TV stars of the 60's, 70's and 80's and an array of media greats such as Oasis, Van Morrison, Cliff Richard, Ronnie Corbett and Hollywood actor Charlton Heston all of whom earned it the reputation of being the "Claridge's of the North", a reference to the famous hotel in Mayfair.
Neil and Julie Rae took over Raemoir in 2010 and in 2017, due to demand, decided that the house was better placed and designed to entertain discerning clients looking for exclusive use so returned it to its former glory as a private house but this time a little more discretion is exercised as Raemoir continues to entertain "well kent faces" although we couldn't possibly say who.....
DOGS WELCOME
To all you pooch lovers, we know what important members of the family your four-legged friends are and we have some too, four to be exact all Chocolate Labradors, thick as you know what and led by the princely Hamish, so Raemoir is fully dog friendly with only a few guidelines to follow as Hamish explains: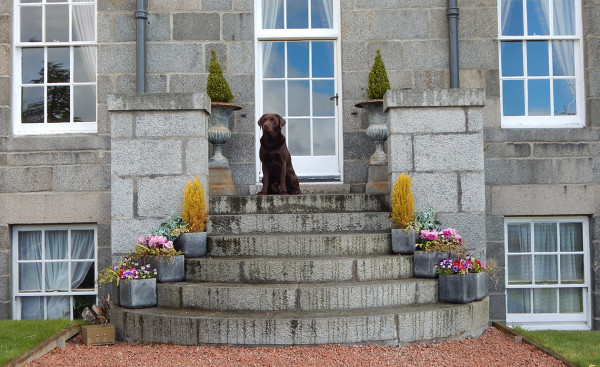 My Dear Furry Friends,
I am happy to welcome you under my woof, ahem, roof. I do hope that you enjoy your stay at Raemoir but I do have a few guidelines to ensure you don't end up in the doghouse instead of the main house!
First of all please enjoy the vast grounds and the excellent trail that starts behind the house and heads up the Hill of Fare, there is an amazing amount of smells, muddy puddles and rabbit holes. Dog heaven! However, if chasing other animals is your thing......please don't - make sure you have your lead on to prevent any temptation as the grounds are surrounded by fields of sheep, cattle and a stable and we've all heard those spine tingling bedtime stories of the fates of daring forebears that succumbed to the lure of the chase........and got caught!
Raemoir is known for their comfortable beds but unless you have your own blanket laid on them first please don't get up on them. If your humans don't have one, get them to ask a member of staff or call 0 on the phone in your room, and we'll find something for you. Not that you should be up on your master's bed anyway of course.......
Even though it may look enticing the woodwork of the furniture is really not that tasty or nutritious so, please, no biting! These things are to be enjoyed by all who come to Raemoir and repairs can be costly so avoid one of those serious finger-wagged-in-your-nose moments (or worse) after your owner has been presented with a bill for the damage.
We all need to do our business somewhere so if it is not deep in the woods out of everyone's way and you get caught short in the grounds then make sure your human clears it up and puts in the main bins not leave it in a bag at the back door or tied to a tree branch.....who DOES that???
Finally, if there is anything you need during your stay, such as canine cuisine or a water bowl in your room, just dial 0 and ask.
That said, we look forward to meeting you soon.
Hamish
LOCAL AREA
We are very lucky in Aberdeenshire to be blessed with clear, sparkling rivers, impressive mountains and abundant wildlife. Nearby Raemoir we are not plagued by light pollution and our skies are still dark at night and filled with stars.
We have an ever-increasing community of local food, drink and craft producers on our doorstep, bringing flavour, seasonality and creativity to everything we offer.
Just minutes from Raemoir is the pretty town of Banchory (see visitbanchory.com) with a large grassy central park, access to the River Dee and the Deeside Way, as well as lots of local independent shops and cafés. The main A93 road through the town will take you east to Aberdeen and the coast or west along Royal Deeside right to Ballater, Balmoral, the summer home of the Royal family, Braemar and the Cairngorms, an outdoor wonderland.
We have golf courses, fly fishing, historic Castles, farm tours, gliding, Royal Lochnagar distillery, pony trekking and cycle routes, the list really does go on and on, but we've done our best to distil the very best experiences here for you.
There's everything from days out to days in - if you just fancy making the most of your surroundings and holing up for a few days then the size of the rooms and the spread of the secluded grounds at Raemoir mean we can bring many of the experiences to you.
Raemoir – relax and enjoy.
Frequently Asked Questions